Services
E-Taxmitra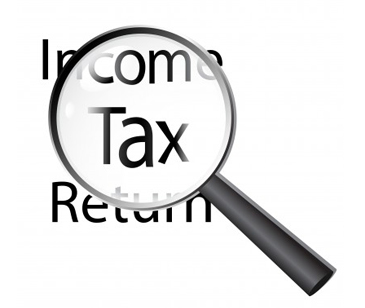 Income Tax Return Consultancy
---
Income Tax Return is the form in which an assesses files information about his Income and tax thereon to Income Tax Department. Various forms are ITR 1, ITR 2, ITR 3, ITR 4, ITR 4S, ITR 5, ITR 6 and ITR 7. When you file a belated return, you are not allowed to carry forward certain losses.The Income Tax Act, 1961, and the Income Tax Rules, 1962, obligates citizens to file returns with the Income Tax Department at the end of every financial year. These returns should be filed before the specified due date. Every Income Tax Return Form is applicable to a certain section of the Assesses. Only those Forms which are filed by the eligible Assesses are processed by the Income Tax Department of India. It is therefore imperative to know which particular form is appropriate in each case.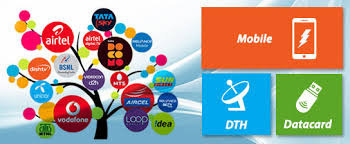 Recharge
---
Mobile Recharge is a single platform where transaction can be done through a single SIM for multiple operators and allows the retailer to do an instant mobile and DTH recharge through a simple web interface.
Key Features:
1.DTH recharge : For all major DTH Service providers in India such as, Tata sky, DISH, Videocon, Sun TV & Reliance Big TV.
2.Single SIM and Wallet : Allows recharge for any operator through a single SIM and wallet interface.
3.We provide all operator recharges available across all circles in India.
4.Recharge any amount: Allows recharge starting as minimum as Rs. 10/-.
5.Instant confirmation and Fund Transfer: Instant confirmation on MT and Fund transfer via SMS.
6.Mobile App recharge: Allows


Bharat Bill Payment System
---
E-TAXMITRA has always endeavored to bring technology to the masses. We at E-TAXMITRA believe that technology is essential for progress and it should not be restricted to the privileged strata of the society. E-TAXMITRA as one of the authorized Bharat Bill Payment Operating Unit, is a functional example of the belief. The National Payment Corporation of India (NPCI) has developed an integrated Bharat Bill Payments System to provide an ease of 'anytime anywhere' payment of all kinds of bills to customers. This will cover mobile postpaid, water, electricity, DTH, landline, gas and broadband. BBPS is a RBI mandated system which offers integrated and interoperable bill payment services to customers across geographies with certainty, reliability and safety of transactions. The service targets agents who can subscribe to provide BBPS to the customers. Once an interested merchant registers as a E-TAXMITRA Retailer, they will be eligible to provide financial services. Anyone can walk up to a E-TAXMITRA Retailer to pay utility bills. The payment to the E-TAXMITRA Retailer can then be made via cash, card or even through Netbanking.

Accounting Services
---
We, at E-TAXMITRA SERVICES INDIA PVT LTD, offer a full range of accounting and bookkeeping services. Sole proprietorship, Partnership Firms, companies, small businesses, mid & Large size businesses all have different accounting and bookkeeping needs. To cater to this varied requirement, we offer tailor-made accounting systems. Our qualified accounting professionals have a minimum of five years of international accounting experience, and can provide valuable support to your existing accounting department or act as a virtual accounting team depending on the level of support you need.

Company & Firm Registration
---
A Company is a legal entity made up of an association of persons, be they natural, legal, or a mixture of both, for carrying on a commercial or industrial enterprise. Company members share a common purpose and unite in order to focus their various talents and organize their collectively available skills or resources to achieve specific, declared goals.
Key Points
Details Required : Details of at-least two Directors / Promoters of the company for obtaining DIN (Director's Identifications Number), Complete Name, Address (including City, State, Pin Code, Country), Father's Name, Date of Birth, Nationality, Occupation, Photograph of every proposed Director. (Scanned photograph will do), Copy of Passport as a proof of identity and copy of Electricity Bill / Telephone Bill / Bank Statement / Driving License as a proof of address. (Scanned copy will do)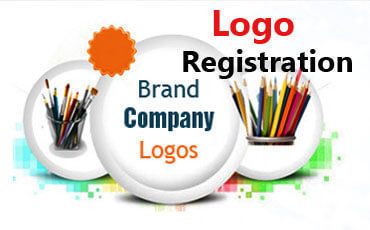 Trade Mark Registration
---
A trademark is any word (PEPSI), name (TATA), symbol or device (Microsoft), slogan (Yeh Pyaas Hai Badi & Thanda Matlab Coca Cola), package design (Coca-Cola bottle) or combination of these that serves to identify and distinguishes a specific product from others in the market place or in trade. Even a sound (Britannia chimes) color combination, smell or hologram can be a trademark under some circumstances. The term trademark is often used interchangeably to identify a trademark or service mark.
Key Points
Document for Trademark Application: Form No. A in quadruplicate signed by 90% of the promoter members, List of promoter members, Bank Certificate, Detailed explanation of working of the society, 4 copies of proposed bye-laws of the society, Proof of payment of registration charges, Other documents like affidavits, indemnity bonds, any documents specified by the Registrar also have to be submitted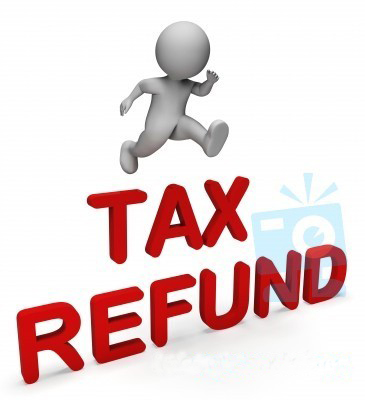 TDS Refund Consultancy
---
Tax Deducted at Source (TDS) is a means of collecting income tax in India, under the Indian Income Tax Act of 1961. Any payment covered under these provisions shall be paid after deducting prescribed percentage. It is managed by the Central Board for Direct Taxes (CBDT) and is part of the Department of Revenue managed by Indian Revenue Service (IRS). It has a great importance while conducting tax audits. We provide TDS retunn consultancy for our customer.
Key Points
Document for Salaried : Form No-16
Document for Self Employed : Business Detain,Gross Income,Net Income
Document for Businessman : Firm Name, Gross Income, Net Income, Total Sales, Total Purchase, Opening and Closing Stock, Expense Detail
Document for Pensioner : Pension details.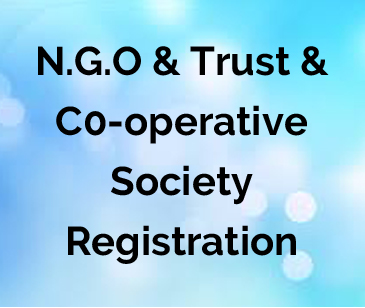 N.G.O & Trust & Co-operative Society Registration
---
We assist in the registration procedures of Societies, Trusts & Partnership Firms, 12 A & 80 G Certificate, FCRA as well as in the process of formation of memorandum of association (MOA). We guide them through the modes and methods, procedural formalities and the process of documentation. We also counsel them regarding the benchmark required for registration.
Key Points
Document for Trademark Application: Form No. A in quadruplicate signed by 90% of the promoter members, List of promoter members, Bank Certificate, Detailed explanation of working of the society, 4 copies of proposed bye-laws of the society, Proof of payment of registration charges, Other documents like affidavits, indemnity bonds, any documents specified by the Registrar also have to be submitted

Goods and Services Tax Registration & Consultancy
---
GST is a single tax on the supply of goods and services, right from the manufacturer to the consumer. Credits of input taxes paid at each stage will be available in the subsequent stage of value addition, which makes GST essentially a tax only on value addition at each stage. The final consumer will thus bear only the GST charged by the last dealer in the supply chain, with set-off benefits at all the previous stages.
Key Points
All existing Central Excise and Service Tax assessees and VAT dealers will be migrated to GST. To migrate to GST, assessees would be provided a Provisional ID and Password by CBEC/State Commercial Tax Departments.
Provisional IDs would be issued to only those assessees who have a valid PAN associated with their registration.
Penalties for Not Registering Under GST : An offender not paying tax or making short payments has to pay a penalty of 10% of the tax amount due subject to a minimum of Rs.10,000. The penalty will be high at 100% of the tax amount when the offender has evaded i.e., where there is a deliberate fraud.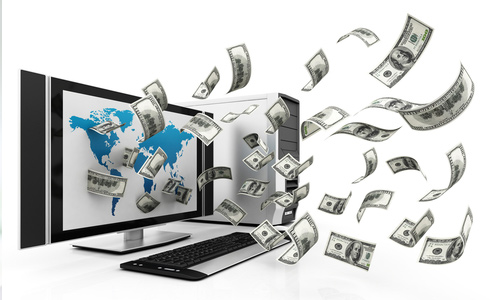 Money Transfer
---
Money transfer is the process of sending money to your near & dear ones through a channel. Many people do not prefer going to bank & post office for money transfer due to pain points as below
1. Opening bank account required local address proof, paper work & time consuming hence migrants do not prefer
2. Can access bank during day time only during banking hours.
3. Non convenient location of bank branches
To overcome these obstacles, E-TAXMITRA is offering a Domestic Money Remittance Service to the customers through which an agent can transfer money instantly across India at lowest charges for his customers and earn commissions. E-TAXMITRA'S financial services endeavor to give an easy banking experience to its customers through its own wallet "E-TAXMITRA" is empowering unbanked customers by providing reliable, quick, accessible and easy to use financial services.
E-TAXMITRA has two modes of fund transfer:
1. IMPS: Beneficiary receives credit instantly
2. NEFT: Beneficiary receives credit within 2 hours
Key Features:
1. Easy formalities for joining.
2. Agent active in instantly.
3. IMPS transfer service with travel service additional.
4. 100% IMPS success status.
5. 100% backend multilingual dedicated helpline service for managing domestic remittance queries, concerns and issues.